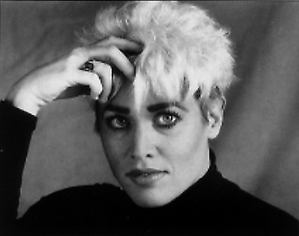 Emily T. Andress
When asked to describe my current portfolio I became completely tongue-tied. I'm afraid I don't do "artspeak"! Here are the basics: These are original, Limited-edition serigraphs. I have personally hand-printed each one. As far as the imagery goes, I want anyone who views these pieces to find themselves there. We all share common emotions. When someone feels that emotion by looking at my work; when they have identified or empathized with something I have created, it's as though my feelings and the viewers' have been validated. It's good. I further facilitate that identification by leaving the faces featureless. My idea of beauty may not be yours - we are all entitled to our opinions!

I will now let the words of journalist Julie Montgomery round the picture: "Andress' current portfolio oozes Femineity. We are not talking about feminism here, just pure portrayal of strength and beauty in female form. Primary colours that would otherwise be unfettered are harnessed with the use of black lines. There is an unabashed clarity of colour that makes one feel that, should the black lines be removed, the colour banks might burst. Vibrancy exuded from this art style is irresistible. By association, you can not help but get a feeling of power. Who influences who as these icons take shape? It wouldn't be too absurd to suggest Andress trades places with her creations. An electrifying energy is channeled into her work, so much so that in the same way you would cover your bird cage at night before retiring, you might feel the need to restrain these pieces during repose."
What more could I possibly add? You know what you like! Enjoy!
If you would like to buy a serigraph from Emily T. Andress please send us an email or see our info page.
To the Emily T. Andress exhibition >>>



---
*** First Internet page about Emily T. Andress ***



© The artist; RT-Distribution, P.O. Box 2333, 58265 Gevelsberg, Germany. All rights reserved.

URL of this page: http://www.rtd-net.de/ETA.html