The CD-MindMachine
Tamas Laboratorium "Fractal Dance" (IC 720.167)
Die erste CD-Mind-Machine! Fraktale Musik. Ein mitreißendes Werk des Multitalents Andrzej Slawinski. Trigger-Signale steuern synchron zum Sound die Lichtsignale der Mind-Machine, die Sie neue Welten erleben läßt!
The world's first CD-Mind-Machine. An impressive masterpiece of the multi-talented Andrzej Slawinski. Trigger-Signals drive the light signals of the Mind-Machine which takes you into new worlds.

Tracks: Paget, Fractal Brain Machine, Fractal, Lisa, Miracle, Baby, Lanigav, Waves of India

---
Sampler "Cosmic MindMachine" (IC 2185-2)
Kosmische Songs von Software, Wahnfried, G.E.N.E., Kosmos u.a., die durch die MindMachine visualisiert werden. Lassen Sie sich synchron zu den Klangstrukturen forttragen in nie gesehene Räume und Landschaften!
Cosmic songs by Software, Wahnfried, G.E.N.E., Kosmos and many others. The MindMachine helps you visualizing and synchronously to the sound strctures it takes you away into rooms and landscapes you have never seen before!

Tracks: Wahnfried "Miditation", Mergener/Weisser "Syn-Code-A", Passe Simple "Ofond", Mergener/Hoffmann-Hoock "Space Lab", Mergener/Weisser "Solar Winds", Yamamoto "East Ward", Binelly/de Mallio "Soft on Top", Art Foreland "Unknown Motion", Stettner/Weisser "Givenchi III", Patrick Kosmos "Photon", Mergener/Weisser "Blue Planet"

---
- Sold out

Die CD-MindMachine stellt die derzeit höchste Entwicklung der Mind/Brainmachines dar. Unhörbare Signale, auf der Musik-CD enthalten, werden durch das Interface ausgefiltert und in der Brille in Lichtblitze umgesetzt. Muster, Strukturen, Ornamente, dreidimensionale Formen und endlose Tunnel führen in die gigantische Weite unserer Fantasie.

Unhearable signals, located on the CD, are filtered out by the Interface and get transformed into light signals. Patterns, structures, ornaments, three-dimensional forms and endless tunnels lead you into the gigantic range of your fantasies.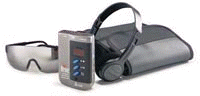 - New!!!

Orion Mindmachine

Order the new Orion Mindmachine here.


---
---
Back 2 2Loud.net
---

© The artists; TMS Verlag, 28209 Bremen, Germany.
Production: RT-Distribution, P.O.Box 2333, 58265 Gevelsberg, Germany. All rights reserved.