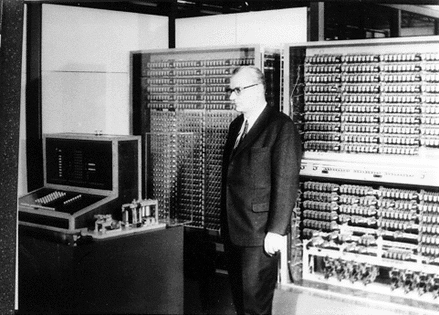 Konrad Zuse and the reconstructed Z3

If you are interested in knowing more about Konrad Zuse's computers, inventions and his life in general we would like to recommend his book "The Computer - My Life".

Detailed technical information about Konrad Zuse's inventions is online available under www.Konrad-Zuse.de and offline in form of the "Konrad Zuse Multi-Media Show", both compiled by his eldest son Horst Zuse.



Möchten Sie mehr über die Computer von Konrad Zuse, seine Erfindungen sowie Allgemeines über sein Leben erfahren, so empfehlen wir sein Buch "Der Computer - Mein Lebenswerk".

Detaillierte technische Informationen zu Konrad Zuse's Erfindungen finden Sie online unter www.Konrad-Zuse.de und offline auf der "Konrad Zuse Multi-Media Show", beides zusammengestellt durch seinen ältesten Sohn Horst Zuse.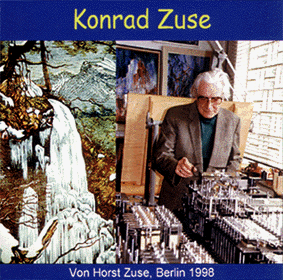 - CD sold out / ausverkauft

This CD contains e.g. a documentation of the legendary machines Z1 - Z4 plus a detailed simulation of the Z3 with an introduction into the machine's architecture. Furthermore you will find technical data of almost all computers built by the Zuse KG as well as many unpublished photos and videos. The updated version of the Konrad Zuse Multimedia Show is now published on DVD and available at our partner company amazon.de.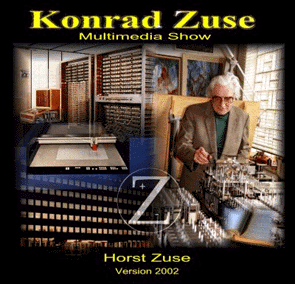 - CD sold out / ausverkauft

Diese CD enthält u.a. eine Dokumentation der legendären Rechner Z1 - Z4 sowie eine detaillierte Simulation des Rechners Z3 mit einer Einführung in die Maschinen-Architektur. Desweiteren findet man die technischen Daten fast aller von der Zuse KG gefertigten Rechner, sowie viele unveröffentlichte Bilder und Videos. Die aktuelle Version der Konrad Zuse Multi-Media Show ist inzwischen als DVD veröffentlicht und erhältlich bei unserer Partnerfirma amazon.de.

<<< Back - Zurück

© RT-Distribution, P.O. Box 2333, 58265 Gevelsberg, Germany. All rights reserved.

URL of this page: http://www.rtd-net.de/Z3.html