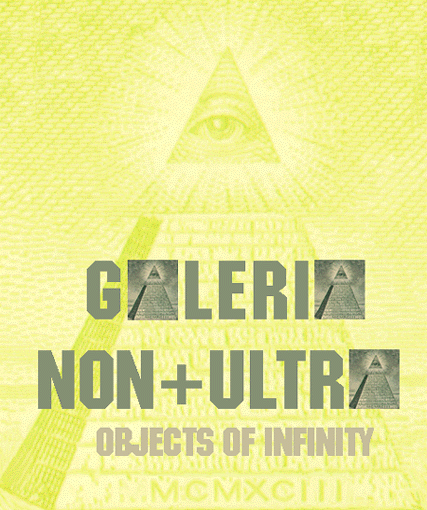 Galeria Non+Ultra
presents



Anja Fass - Between Near and Far
Hermann Focke - Geometric Beauties
Bettina Mueller - Wall paintings and more
Joerg Wiele - Moving Sculptures
Martin Willing - Swinging Sculptures
Chris Tees - Photography and more
Bruno Haas - Akt-Collection
TMS High-Tech Art - Early computer-animated masterpieces
Emily T. Andress - Posing on South Beach
Ben Wright - Understanding the old indian ways
Carin Grudda - Portraits of the other side
Konrad Zuse - Emotions between 0 and 1... ;-)
Various artists - X-perimentals and more...
Galeria Non+Ultra - Archive
---

Galeria Non+Ultra Sponsoring

We are happy about any support from companies or also private persons.

Click here 4 more info.
---

At Galeria Non+Ultra we offer fine art prints,
limited edition serigraphs, original art and custom artwork.

You are an artist? You want to expose your works to the whole world? No Problem.

Please contact us.



---

Visit our 3P Gallery Shop
Protected by Pharao & Sons

© RT-Distribution, P.O. Box 2333, 58265 Gevelsberg, Germany. All rights reserved.

URL of this page: www.Galeria-NonplusUltra.com